FINAL ROUND. Vote Now!

WSU Men's Basketball Coach Gregg Marshall gained a spot in the final round of the Infiniti Coaches' Charity Challenge, hosted on ESPN.com. For 10 weeks, the nation's top 48 coaches have been counting on their fans to vote for them in support of their favorite charity. With only two weeks and 4 coaches left in the competition, Coach Marshall and Wichita Children's Home need your votes more than ever to win up to $100,000! Show your Wichita pride and #VoteAngry every day for Gregg Marshall at espn.com/infiniti.
Gregg Marshall Encourages Shocker Nation to Vote
How it works:
Vote for Coach Gregg Marshall EVERY day! The 4 coaches with the most votes will advance to Round 4!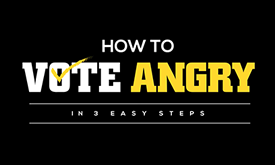 | | |
| --- | --- |
| Round 1 Voting: | Jan. 6th - Jan. 26th |
| Round 2 Voting: | Jan. 27th - Feb. 16th |
| Round 3 Voting: | Feb. 17th - Mar. 2nd |
| Final Four Voting: | Mar. 3rd - Mar. 16th |
Let's show the world how passionate we are about our Shockers and help us win up to $100,000 for the Home! It's go time!