ASERCA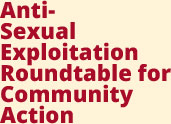 It is the vision of ASERCA to free all youth in Wichita and Sedgwick County from sexual exploitation. Through prevention and intervention services, ASERCA can provide a secure and nurturing environment where youth can gain back their dignity and respect during the healing process. ASERCA's primary objective is to effectively prevent and intervene in situations of sexual exploitation through collaborative, multi-disciplinary provision and through action committees.
Our Vision
The Vision of ASERCA is that all Youth in Wichita and Sedgwick County will be free from sexual exploitation. The Mission is To provide collaborative and multi-disciplinary prevention and intervention services in a safe, secure, nurturing and healing environment to young people up to the age of 22 who have been victimized or who are at risk for sexual human trafficking therefore allowing youth to regain dignity and respect for themselves.
Members and Community Partners
WCH ASERCA is a multi-disciplinary team that, comprised of multiple partners, seeks to meet the holistic bio-psycho-socialspiritual needs of young people at-risk of and/or subjugated to multiple forms of human trafficking and sexual exploitation.
Partner organizations/agencies include:
Wichita Children's Home (WCH): Street Outreach Services (SOS); The O.Z.; Shelter; BRIDGES Transitional Living Program
Department of Children and Families of the State of Kansas
Office of the 18th Judicial District Attorney
Sedgwick County Sheriff's Office
Wichita Police Department
Regional FBI
Child Advocacy Center of Sedgwick County
Via Christi Hospital
Wichita Area Sexual Assault Center
Catholic Charities Harbor House
Kansas Children's Service League Child Guidance Center
DCCA
Youthville
Kansas Attorney Generals Office
Sedgwick County Corrections and Juvenile Courts
Exploited and Missing Children's Unit (EMCU)
Salvation Army
YWCA
WSU Center for Combating Human Trafficking