About Us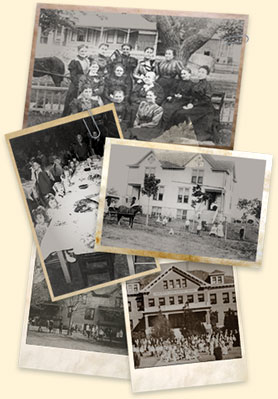 A Home with a Heart
The Wichita Children's Home was founded in 1888 as the city's first orphanage to "support and care for destitute and homeless children." Today, the Home offers the only emergency, temporary, residential care for children in our community. The Home is open 24/7 and serves children from birth to 22 years of age in foster homes or in the shelter.
WCH realizes child abuse, family dysfunction and substance abuse problems can never be completely eliminated. Yet, we continue to raise awareness, acting as an advocate for healthy families and working to minimize negative impact on children of the community.
WCH actively promotes children's rights and supply preventive information to help families heal themselves. By empowering families to change destructive behaviors and alter the paths of their lives, the Home is helping to create healthier futures for area children.
Our Mission
To assure the safety and well-being of children and to create healthy families by providing:
assessment and intervention services
a temporary home for children at risk of abuse, neglect or homelessness
education, prevention and advocacy initiatives.
Admission in the Home
Children are admitted by parents, law enforcement, social workers and, sometimes, they admit themselves. These children are admitted due to alleged abuse, neglect, abandonment, running away from home, or homelessness. If a parent is in crisis and has no one to care for their child, on a moment's notice the Home can be a respite. The Home also provides a safety zone for infants and toddlers in our Foster Care program. Foster care families provide for children by generously opening their hearts and their homes 24/7.
Beyond the Home
The Wichita Children's Home provides the Street Outreach Services (SOS). This program focuses on helping runaway and homeless children. SOS provides presentations to middle and high school assemblies and distributes cards with emergency contact information. SOS provides the Safe Place support in Wichita. SOS conducted 203 Safe Place rescues last year and presented information to 1,200 youth in high school assemblies.
The Home also offers BRIDGES, a program providing housing, counseling, education, life skills coaching and vocational preparation for 16 to 22 year olds. This program serves individuals, as well as, young parents and their children. The goal is to help these residents reach self sufficiency. Last year 138 individuals were served.
The Wichita Children's Home's newest program is O.Z. – the Opportunity Zone. O.Z. is an extension of the SOS program and provides a place where homeless, runaway or at risk youth can establish positive relationships with adults and be connected with resources designed to help them achieve stability in their lives.
Wellness Implementation Plan
Kansas School Nutrition Programs: Once on this page to view the wellness policy data, click on the diamond shaped box to the left of "View Kansas Schools' Wellness Policy Data". The login information for the site and navigation instructions are provided to the right of the link.
Download our Wellness Implementation Plan.
Child Nutrition Program
This institution is an equal opportunity provider. For more information, see the USDA Nondiscrimination Statement.
If you are interested in participating in our wellness committee or wellness activities please contact p_williams@wch.org or 316-684-6581 for additional information.
Directories