Mark Your Calendars!
Save the date for our two annual fundraising events, and show your support through the contribution of your time and participation. Proceeds benefit the mission of Wichita Children's Home. If you are interested in hosting an event or becoming an sponsor, please contact us!
Featured Events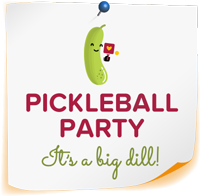 Pickleball Classic: It's a big dill!
Join us for our first ever Pickleball Classic on Sunday, February 19 from 6 to 9 pm at the Wichita Country Club. Attendees can compete, learn to play and watch an exhibition match by National Pickleball Champions. The event will also include heavy appetizers, beer, wine and a silent auction.
Pickleball is a fun game for all ages. Played with a paddle on a court or in the yard, Pickleball is a cross between badminton, tennis and ping-pong. The rules are simple, and the game is easy for beginners but can develop into a quick, fast-paced, competitive game.
Register here today! Tickets are $75 and categories are as follows:
A = True Beginners
B = Ready to Play
C = Completely Competitive
S = Social View
Sponsorships are also available. For more information, please contact Kim at kpennington@wch.org.