Street Outreach Services (SOS)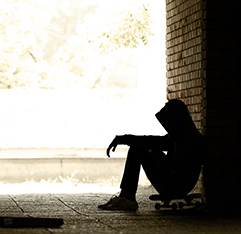 S.O.S. is designed to take resources directly to homeless and at risk youth on the street. S.O.S. workers provide a non-judgmental approach and meet youth where they are: emotionally and physically. This service engages youth on the street and provides them with basic survival supplies, crisis intervention, support and community resource connections. S.O.S. offers a comprehensive array of services and resources to youth such as shelter, advocacy, basic case management and crisis intervention. As the area's only Street Outreach provider for youth, WCH knows the importance of identifying and providing services to hundreds of youth with no one to turn to, who are homeless, runaway or without resources, including those involved in sexual exploitation and human trafficking.
Street Outreach
Who is it for?
Imagine for a moment that you are a youth who has run away from home or you are without a stable place to stay. There might be a list of reasons why. Perhaps you escaped an abusive situation. Maybe your parents simply didn't understand you. Maybe you have been kicked out of home. Either way, the result is the same: you're homeless, hungry, scared, broke. Someone stole your only coat. You're not feeling so great. Things are bad, and getting worse fast. You don't know where to turn for help. Life just seems hopeless.
Fortunately, there is hope. Thanks to the Street Outreach program at the Wichita Children's Home, youth 12-21 yrs. of age that are in desperate situations have somewhere to turn for crisis intervention and response, support, advocacy, basic needs, and shelter. A specially equipped van cruises the streets of Wichita looking for youth who have reached the point of no return, offering to take them to the home or other shelter, provide them with basic necessities such as blankets, coats, first aid supplies, hygiene items and more. S.O.S. workers inform youth of community resources that can help. Most importantly , they listen. Our staff respond to youth in crisis 24 hours a day.
Because youth often feel more comfortable talking to other youth about their problems and concerns, specially trained peer counselors are teamed with adult counselors on the outreach vans to bridge the generation gap and help youth feel more at ease. By providing immediate services and crisis counseling to these youth, the Street Outreach program goes far to prevent them from becoming victims of senseless and horrifying abuse common on the streets.
Our Outreach Programs
Opportunity Zone (O.Z.)
LOCATION:
Opportunity Zone
1157 N. Emporia
Wichita, KS
HOURS:
Mon & Wed (noon - 6 pm)
& Thurs (3 - 9 pm)
PHONE:
(316) 440-9300
Opportunity Zone or "O.Z." located at 1157 N. Emporia, is exclusively for homeless and youth in crisis. Youth who come are able to have access to food, hygiene supplies, clothing, showers, laundry, computers and most importantly, a place of SAFETY—anything to help make their situation less desperate. Youth can meet with S.O.S. workers, mentors, and volunteers that help process situations, solve problems, find housing and shelter, help fill out job applications, applying for ID's, and etc. Youth are also about to attend groups at "O.Z."—such as Creative Writing, Substance Support, Healthy Relationships, Art Therapy, and S.O.S. Thursday Night Group.
Named in partnership with the youth, O.Z. is a place "Where a Traveler might find a brain, one their courage, another their heart…all can find their way 'home'," explained Risa Rehmert, coordinator of Street Outreach Services for the Wichita Children's Home.
CrossRoads for Runaway and Homeless Youth
CrossRoads is a program for youth (12-17 yrs of age) who are runaway or homeless or contemplating running away from home and their families. Together, they participate in intensive counseling and case management services for up to three weeks, identifying problems that can lead to these issues. Parents may admit youth or youth may admit themselves to WCH. Through services as diverse as residential care, medical services, drug/alcohol prevention classes and counseling, case management, family counseling and more, CrossRoads helps provide the services necessary to rebuild lives and reunite families in crisis.
Project Safe Place
A cooperative effort between the Street Outreach program and QuikTrip® Corporation, Project Safe Place provide 24-hour access to help through Safe Place locations throughout the community or by calling the hotline number. Area QuikTrip® convenience stores serve as safe places for children and youth who are in crisis, runaway, or without a place to stay. If you are 21 years or younger and in need of immediate help, call (316) 262-HOME(4663) or text the word SAFE and your location to 69866.